I get asked this question all the time by LASIK patients and wanted to address this in this post about whether LASIK, or laser assisted in situ keratomileusis, is safe, what the risks and benefits are, and what the long term patient satisfaction and chance of 20/20 vision are. In a nutshell, yes, LASIK, the most common type of laser vision correction, is incredibly safe.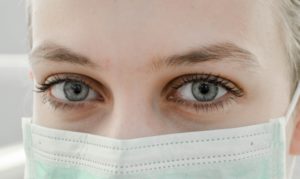 LASIK was approved by the food and drug administration, or FDA, over 20 years ago, in 1995. Since then, it has undergone may iterations, and went from being performed with a microkeratome (a small blade) to being completely performed by laser. During the LASIK procedure, corneal tissue is removed by the laser microscopically. This procedure reshapes the cornea so that the light rays that hit the cornea focus exactly on the retina, the film in the back of the eye, instead of in front or behind it. Patient reported satisfaction in the long run is upwards of 98%. This varies significantly depending on your eye surgeon, their training and experience, and the equipment they use. A cornea and refractive fellowship, which is extra training after a regular ophthalmology residency, is something you can look for when deciding about your eye surgeon for your LASIK eye surgery.
Many LASIK patients ask about risks and benefits, side effects, and the prognosis for the long term, and I will address those concerns here. First, it is important to remember that the LASIK eye surgery is a laser procedure only on the surface of the eye, and does not penetrate the eye itself. There are no risks from the LASIK procedure of retinal bleeds, cataract formation, or vision loss. There are minor risks that occur with glare. Glare can be avoided by performing correct measurements and calculations ahead of time, and correcting for higher order aberrations and performing custom treatments for astigmatism on each cornea. During the LASIK eye surgery, corneal tissue is carefully removed the laser as it reshapes the cornea and this allows for the patient to not need glasses or contact lenses. Other risks include dry eye. By performing a thorough eye exam ahead of time, dry eye can be detected, treated, and optimized, and this minimizes the risk of dry eye in the long term. One must also remember that long term wear of contact lenses increases the risk of dry eye as well. Laser assisted in situ keratomileusis performed by an experienced eye surgeon who properly evaluates astigmatism and dry eye ahead of time will decrease the risk of glare, halos, and dry eye. Side effects are minimized when researching an experienced surgeon ahead of time.
Let's discuss the long term benefits at this point. Over 20 years, patient satisfaction is upwards of 98%. LASIK patients note that permanently getting rid of their glasses or contact lenses is the most satisfying thing that they can do for their overall eye health and wellbeing in the long term. Permanently getting rid of contact lenses is healthy for the cornea because it eliminates the risk of dry eye, corneal infections, new blood vessel growth, and lack of oxygen to the cornea. Side effects of contact lenses can be permanent too. Chronic eye care can minimize these side effects but they never completely go away. The dry eye that results from contact lens wear can make a patient 'contact lens intolerant,' which means that patient may not be able to wear contact lenses at all in the future. Patient reported side effects from 20 years of contact lens wear is higher than side effects from LASIK. Patient reported benefits from laser assisted in situ keratomileusis over 20 years include an increased ability to perform sports without wearing glasses or contact lenses, less infection on eyelids such as blepharitis or styes from not touching the eyelids to remove contacts, decreased feelings of dry eye and irritation of contact lens wear. There is also financial savings in the long run from not spending as much money on contact lenses and as frequent doctor visits.
The way the laser reshapes the cornea during the LASIK procedure to ensure 20/20 vision is particular to each patient's custom topography, or imaging. This custom imaging is performed routinely by the eye surgeon to reduce side effects, dry eye, and glare, and increase the chance of 20/20 vision in the long term. Overall, patient reported satisfaction with this food and drug administration approved laser procedure is at an all time high, and continues to be on the rise since the rise of COVID and of mask wearing. LASIK patients are satisfied with the glasses or contact lens independence that LASIK eye surgery provides them.
Share on facebook
Facebook
Share on google
Google+
Share on twitter
Twitter
Share on linkedin
LinkedIn
Share on pinterest
Pinterest